Chiropractor
Eleanor Holdnack, D.C.
Dr. Holdnack received her Bachelors of Biomedical Sciences from the University of Buffalo before attending New York Chiropractic College to obtain her Doctorate of Chiropractic. She practiced in Buffalo, NY before moving to Maryland to continue her career.
She has extensive experience working with auto injuries and has used diversified, drop table, and flexion-distraction adjusting techniques in addition to various myofascial techniques. She is certified in ConnecTx therapy and Kinesiotaping. She is Webster Certified and has years of experience working with pregnant women, infants, senior citizens, and everyone in between.
Dr. Holdnack enjoys educating patients on ways to maintain spinal heath outside of the office and ways to support the positive changes made during treatments. She does this by demonstrating stretches and exercises that patients are able to use to support proper posture and ergonomics. Providing excellent patient care is of utmost importance to Dr. Holdnack and she looks forward to helping you on your journey to wellness
Chiropractor
Charles Cruickshank, D.C.
Dr. Charles Cruickshank completed his undergraduate studies at the Rowan University in Glassboro, NJ. He became interested in integrative medicine after suffering from severe mid and low back pain due to a baseball injury.
He treated these injuries through traditional orthopedic medicine and found no improvement and decided that he would seek the services of a chiropractor. After successful treatment, he decided to pursue chiropractic as a career. In 1995, he graduated from The National College of Health Sciences in Lombard, IL. Dr. Cruickshank has been in private practice in Maryland for 24 years. He is Board Certified and licensed in the state of Maryland with Physical therapy privileges.
He specializes in the rehabilitation of acute musculoskeletal injuries, such as those commonly experienced in auto accidents and work-related injuries. Over the past 24 years, Dr. Cruickshank has coordinated his practice with a number of primary care, pain management, orthopedic and neurosurgical physicians to form an integrated, patient based health care team to achieve the best outcomes for his patients. His approach to health care is to diagnose and address the cause of your health condition, not merely mask it with medication. As a Doctor of Chiropractic, he is an expert at detecting spinal conditions and focuses on improving or eliminating the underlying condition with chiropractic treatment and physical therapy. He shows patients how to care for themselves through appropriate life-styles changes, corrective exercise and rehabilitation, allowing the body to recover as completely as possible. When Dr. Cruickshank is not treating patients, he enjoys spending all his family time outdoors boating, camping, hunting and fishing with his amazing wife Patty of 37 years and his two sons Chuck and Patrick.
Chiropractor
Dawn Sykes, D.C., C.I.C.E.
Dr. Dawn Lachelle Sykes, D.C., C.I.C.E. is a Charleston, South Carolina native, and has practiced in South Carolina for five years before relocating to the DC Metropolitan area in 2016. She now lives in Northern Virginia, and serves as the treating chiropractor at Active Physical Therapy in Waldorf, Maryland.
Dr. Sykes started her higher education journey at Florida Agricultural & Mechanical University in Tallahassee, FL, where she earned a Bachelors of Science Degree in Biology Pre-Medicine in 2006. After her undergraduate studies, she received her Doctorate of Chiropractic Degree from Life University in Marietta, Georgia in 2010 Dr. Sykes is a Certified Independent Chiropractic Examiner, with certification from the American Board of Independent Medical Examiners (ABIME), and is a member of the American Chiropractic Association.
Dr. Sykes specializes in personal injury rehabilitation, disability examinations, extremity and spinal corrective care. From a person plagued by pain from her own injury, Dr. Sykes is committed to assisting each individual to improve their quality of life. Dr. Sykes collaborates with other healthcare providers in an integrated setting to collectively have patients reach their fullest potential.
Dr. Sykes takes the time to educate her patients so that their treatment can involve open communication and a collective effort. As Dr. Sykes strives to integrate for a good cause, she was able to utilize her chiropractic training during the COVID-19 pandemic emergency response as a Chiropractor Vaccinator at the University of Maryland where healthcare providers united to fight the once in a lifetime pandemic. Dr. Sykes has a passion for helping people. She strives to provide quality chiropractic care that is safe and effective with a warm, compassionate heart.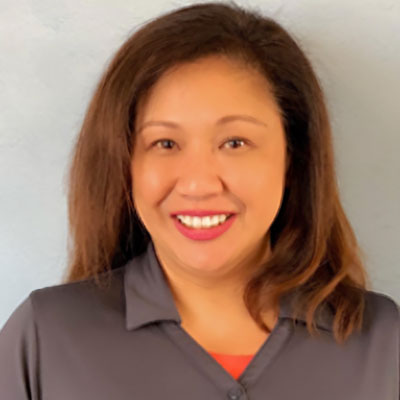 Doctor Of Physical Therapy
Maribel D. Furtado, P.T., D.P.T.
Maribel has been practicing in Maryland since 2002. She earned a Bachelor of Science degree in Physical Therapy from De La Salle Medical and Health Sciences Institute and earned her Doctorate in Physical Therapy from Utica College in New York. She has been practicing physical therapy since 1995.
She has worked in various rehab settings in New Mexico, New York, and Maryland but has developed a passion for outpatient orthopedic and musculoskeletal conditions. She has special interests in post-surgical conditions such as knee replacements, cervical fusions, lumbar fusions, and shoulder surgeries. Her treatment employs an eclectic approach in manual therapy and therapeutic exercises learned from various continuing education programs she attended throughout the years.
Chiropractor
Alison Parker, D.C.
Dr Parker has been a grass roots natural healer and chiropractor for over 25 years in the Washington, DC community. She started her practice in DuPont Circle and Capital Hill and served the community from 1995 until now.
Dr. Parker is currently licensed and certified as a chiropractor, physiotherapist, radiology, massage, Reiki, reflexology, iridology and colon hydro-therapist. She founded the New Life Wellness non profit in 2000 whose mission was to provide quality natural health care to all citizens regardless of their ability to pay.

Dr. Parker was a cohost on Brother Bey's radio show on WOL. She also has been a special guest on Joni Eisenberg's Heal DC on PFW, Dr. Theodore Watkins, and Nightwolf show.

In 2012 Dr. Parker was invited to Ghana to help build and support several clinics. She educated Ghanaians on proper natural healing and nutrition. Dr. Parker, being the mother of 4 college educated children and a grandmother of 5, reached out to many children in Ghana providing school fees and clothes for those in need. One of the clinics Dr. Parker helped create was owned by Archbishop Duncan Williams, of Action Chapel, one of the largest churches in Ghana.

Dr. Parker was mentored by Dick Gregory. She strongly believes on quality health care for every citizen. She dedicates her practice and her life helping any and everyone that crosses her path to the best of her ability.

Currently Dr Parker is practicing in Brandywine MD. She is working in developing a full health spa, music stage in the woods, a natural healing school and children's non profit development center.
Doctor Of Physical Therapy
Jesal Shah, P.T.
LOCATIONS: Rosedale
Jesal Shah has been practicing as a clinician since 2017, graduating from Loma Linda University in Loma Linda, CA. Jesal first started her journey in physical therapy through her work in acute care rehab in the development of orthopedic treatments pertaining to common musculoskeletal dysfunctions as adhesive capsulitis, ligament tears, and fractures.
While there she was able to hone in on the delivery and integration of a variety of treatment approaches including Maitland mobilization, movement Science, and neurodynamic solutions to achieve optimal results within her client base. Her growing interest in outpatient orthopedics would next guide her into her work in myofascial release therapy along with research in stroke rehab and the effects of dynamic balance as it relates to childhood obesity. Today, Jesal continues her focus on the development of treatment protocols and implementing plans of care for patients suffering from orthopedic and musculoskeletal dysfunction within outpatient care.
Doctor of Physical Therapy
Belinda Miranda, P.T., D.P.T
Belinda has been practicing in Maryland since 2016 and received her Doctorate degree from Touro University, NY. She has obtained a Master's degree in 2016 from Loma Linda University, CA. Prior to this, she earned her Bachelor's Degree from Father Mullers Medical College.
She has had exposure in an outpatient setting for 4 years and has treated a wide range of orthopedic and post-surgical conditions along with sports-related injuries. She has assisted in conducting 3 research studies during her Master's degrees. She is compassionate and committed to providing high quality and effective patient care. In her spare time, she enjoys watching movies, listening to music, traveling, and reading.
Doctor Of Physical Therapy
Ankit Shah, D.P.T.
Dr. Ankit is a board-certified clinical specialist in orthopedic physical therapy through the American Board of Physical Therapy Specialties (ABPTS). He earned his Doctor of Physical Therapy (DPT) degree from Loma Linda University, CA in 2017.
After completing his bachelor's, he worked at a specialty hospital and gained valuable experience in treating patients with various orthopedic conditions..
Dr. Ankit is a certified Mulligan practitioner through CAPRI institute of manual therapy, India. He has also attended various seminars on manual therapy and kinesiotaping to further enhance his clinical skills. He has contributed to research in the field of orthopedic/sports and cardiopulmonary physical therapy during his bachelor's.
In his free time, he likes to play & watch cricket, travel, and spend time with friends & family.
MEET THE TEAM BY LOCATION